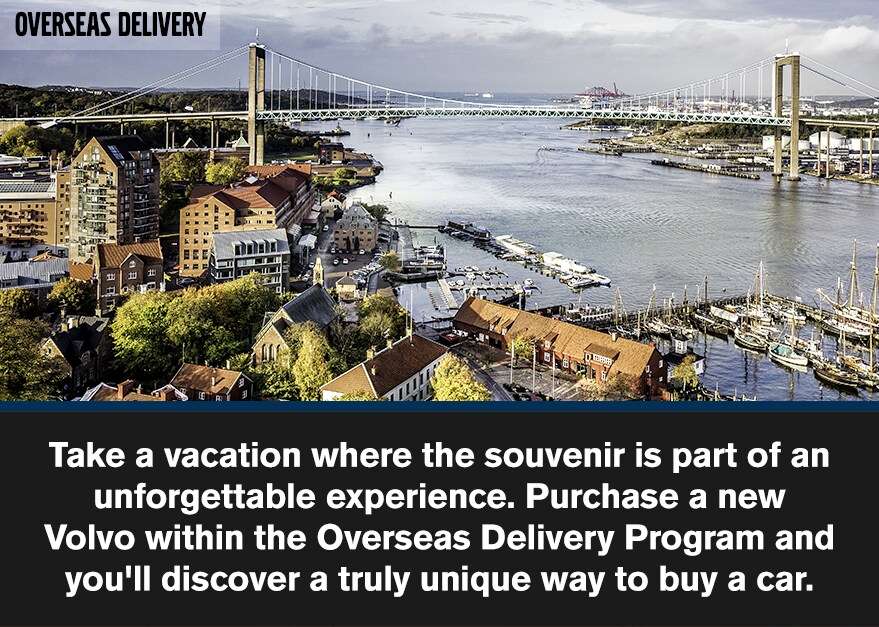 Enjoy Overseas Delivery with Volvo Cars Gilbert Global Shipping, Serving Chandler, AZ

Owning a Volvo means taking part in a globally collaborative experience. Now, enjoy the gift of travel with Volvo Global Shipping. Your overseas delivery begins with custom ordering your personalized Volvo, which you'll pick up personally in Europe. We'll fly you to Europe to receive your Volvo in Sweden or any European official delivery site, with a free first night's stay in Gothenburg. Enjoy the vacation of a lifetime on the roads of Sweden and Europe. When you've had your adventure, simply return your Volvo to any official drop-off location and we'll ship it to Volvo Cars Gilbert, taking care of excise taxes, import duties, and all other related paperwork. Don't miss this opportunity to tour the Gothenburg Volvo factory and travel Europe at your own pace in your new Volvo vehicle! Call one of our sales professionals for more information on the vacation of a lifetime with easy global shipping of your personal Volvo vehicle.

Get the Total Volvo Experience at Volvo Cars Gilbert Serving Phoenix, Arizona

A Volvo represents more than a vehicle, it creates a luxury lifestyle. Get the most out of your Volvo experience with the great offers available at Volvo Cars Gilbert. We're excited to present Overseas Delivery, Polestar Performance, and more. In addition, you'll love the variety of options in our new 2017,  and 2018 models, and impressive certified pre-owned inventory as well as great savings with our new car specials and pre-owned sales offers. We maintain and repair Chandler area Volvo models in our state of the art service department staffed by highly qualified technicians. Our well stocked parts department has a large supply of Genuine Volvo parts to help you boost the performance and personality of your vehicle. When you're ready to take the next step in Volvo ownership, give us a call at (877) 827-4615 or visit us at 3285 S. Gilbert Road, Gilbert, AZ 85297, near Gilbert, Arizona. We look forward to serving you!

Enjoy the vacation of a lifetime
No need for rental car expenses and rental car return restrictions (from one country to another)
Up to approximately 8% savings (varies by model) off the U.S. MSRP on U.S.-model Volvos
Roundtrip tickets for 2 to Europe*
One free hotel night in Gothenburg, Sweden, the home of Volvo
Fifteen day European Car Insurance coverage, including Swedish temporary registration
Experience the unique atmosphere and service at the Factory Delivery Center in Gothenburg, Sweden
An exciting Volvo factory tour, visit to the Volvo Cars Brand Experience Center or a visit to the Volvo Museum
Extensive complimentary home shipment services valid for 2/6 months
U.S. Customs Duty, port clearance fees and inland transportation to your U.S. Volvo retailer are included in purchase price

You will fill out an order form, a Swedish    Application for temporary registration, and a    Power of Attorney form.
You will need to submit a $2,000 deposit.
You will need to provide a photocopy of your    Passport, and your Driver's License.


In about 15 working days after this, Volvo will send an order confirmation package, which includes the Order Confirmation for your car order. The Confirmation will also show your order number and scheduled delivery date, as well as instructions for organizing travel through our Travel Department, and information on your specified delivery point. You have 15 days from the date you receive your Order Confirmation Package to finalize your travel booking, and up to six months from the date of your vehicle delivery in Europe to complete your vacation.