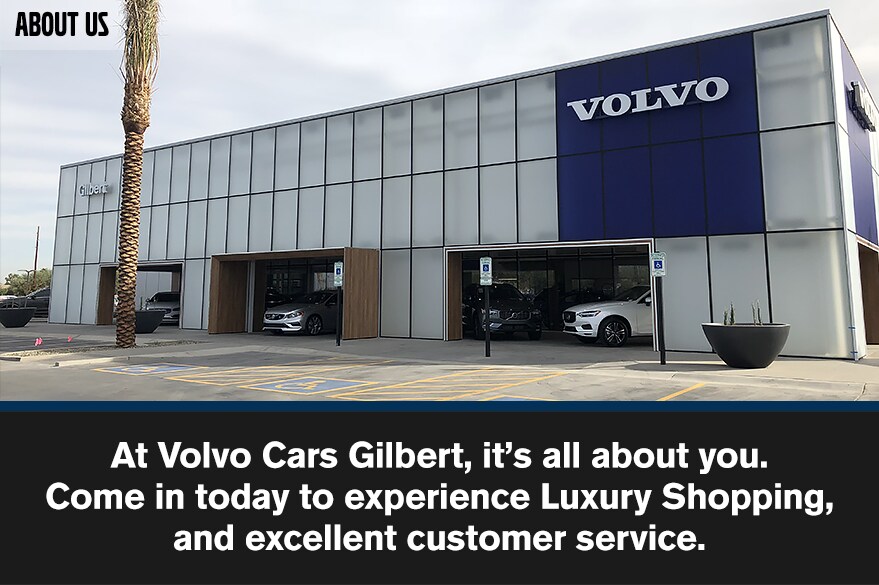 At Volvo Cars Gilbert, the Experience is All About You

While our services range from sales to maintenance, parts installation to customization, the mission of Volvo Cars Gilbert is to simply offer the best possible experience for you. We frequently work with drivers from Phoenix, Chandler, Tempe, Mesa, with some of our clients coming from hours away to do business with us.

Take a look at some of the top reasons that Arizona drivers choose our local Volvo dealership over the competition.

A straight-forward and honest approach to car sales: We believe that an educated, comfortable, and happy shopper is the kind of customer that stays around. That's why our team is dedicated to helping you with your research, comparison, test-drives, and budget-balancing
A warm atmosphere: One of the most common praises we hear about our team is the friendliness and warmth that people feel when they work with us--and that is a point of pride for every team member
A great selection of vehicles: With new Volvo models, Certified Pre-Owned vehicles, and used cars, trucks, and SUVs available across our lots and within the showroom, Volvo Cars Gilbert makes it simple to find a vehicle that fits your lifestyle
A deep knowledge of products, vehicles, and equipment: Nothing can ruin a shopping experience faster than feeling like the sales staff doesn't know the product they're selling. That's why we commit time to staff training to be sure that our team knows all of the ins and outs of Volvo products, parts, and more
Clean facilities and an attentive service staff: Vehicle maintenance can get messy--but that doesn't mean that our service center must be. All of the facilities at Volvo Cars Gilbert are kept clean and stocked with state-of-the-art technology and products, to ensure that we can provide white-glove service whether you're here for a simple tire rotation or a full-body detailing

Ready to give us a try?

Visit our dealership location on South Gilbert Road, or dive into our website to learn more about us.

(877) 827-4615

Volvo Cars Gilbert
3285 S. Gilbert Road
Gilbert, AZ 85297

    SALES HOURS

    Monday: 8:00am - 8:00pm
    Tuesday: 8:00am - 8:00pm
    Wednesday: 8:00am - 8:00pm
    Thursday: 8:00am - 8:00pm
    Friday: 8:00am - 8:00pm
    Saturday: 8:00am - 8:00pm
    Sunday: 10:00am - 5:00pm
SERVICE HOURS

Monday: 7:00am - 6:00pm
Tuesday: 7:00am - 6:00pm
Wednesday: 7:00am - 6:00pm
Thursday: 7:00am - 6:00pm
Friday: 7:00am - 6:00pm
Saturday: 7:30am - 4:00pm
Sunday: Closed
PARTS HOURS

Monday: 7:00am - 6:00pm
Tuesday: 7:00am - 6:00pm
Wednesday: 7:00am - 6:00pm
Thursday: 7:00am - 6:00pm
Friday: 7:00am - 6:00pm
Saturday: 7:30am - 4:00pm
Sunday: Closed